SHA1:
ba4956ae3ccba8cec3bd9c35e78a924b3616bab1
Once a program containing Android.DownLoader.244.origin is launched, the Trojan prompts the user to enable the malicious accessibility service. If the victim follows the instructions and enables the corresponding accessibility service, the malicious program becomes able to monitor all system events and install various applications specified by cybercriminals on behalf of the user and without their consent.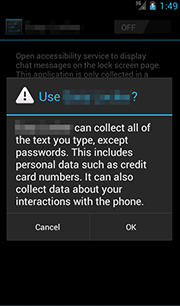 After that, the Trojan tries to get root privileges in order to download and install different programs into a system folder upon a command from the command and control server.