This is a Trojan infecting Android mobile devices. It can be distributed by cybercriminals via a modified version of the official Google+ client application.
When launched, Android.Selfmite.1.origin prompts the user to grant it administrative privileges.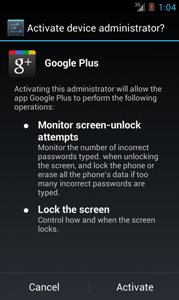 The Trojan creates several URL shortcuts on the home screen. These shortcuts, depending on the device's location, lead to different websites that generate a profit for Trojan makers with every user's visit.
Android.Selfmite.1.origin is able to "advertise" certain applications available via Google Play by displaying respective sections of the software catalogue.
The malware can send infinite number of short text messages to all of the contacts found in the device's phone book. Depending on what instructions the Trojan receives from the command and control server, these SMS messages may contain links to websites as well as download links for specific application and the malicious program itself.