SHA1:
54ae640eae345c9b108ec33026eb03624e9840c8
c6e337f8525e6cea5297f81af3434d9a37d6db15
c8c051a0ef04dad228a020e9a23efa762cd5ecc0
c2719ccef70071b0cffa0c58557c6244c4a7da06
39306af4647badbbd87084ea3695c2ea725e837d
6437914d8f905bc8b9f24a6dee553f86af1f8721
e55b70f9edc7bb9fbdf46fef588d19ff5496312b
75bf69b54ffa399f19eccd705249125cf71c7e7c
8b077a4b8bba70c52ead31c76d8aa79c497b817c
8c15f223d143fd352829b6c29707ff20055d86f9
73c2add5c467a6e9f5722588da6db03ac6e35cb3
0b25c6c1706b46b87afc243366f299280b140503
d8a63e181680ab40644ded9f572e8251e3d13756
f25d0d6aff4ccc765684520bb8fa09388dc9d061
A Downloader Trojan that runs on Android devices. It is a modification of the Trojan Android.DownLoader.818.origin. It was detected on Google Play, distributed by the Quoac developer as a game.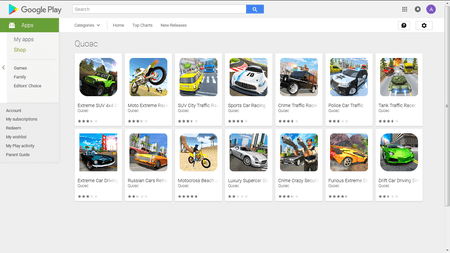 When launched, the Trojan prompts the user to grant it access to the SD card of the device with the following message: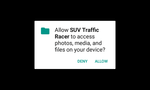 When the access is granted, Android.DownLoader.819.origin requests administrative privileges.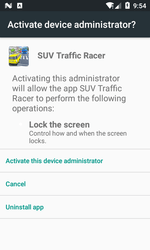 After the Trojan is assigned the device administrator, it hides its icon from the app list on the main screen. For that, it restricts the access to the activity that launches it.
Then Android.DownLoader.819.origin uses its own service to download the Addon.apk file from the server https://cdn.*****.us and writes it to the external repository (an SD card or available memory of the mobile device). The file is the adware Trojan Android.HiddenAds.728, but other files can be downloaded too, depending on server configuration.
After the download, Android.DownLoader.819.origin prompts the user to install it every 20 seconds with a standard system dialog:
The dialog keeps showing until the owner of the affected device agrees to install the application.
Android.DownLoader.819.origin also registers a broadcast receiver that launches a Trojan service upon the following system events:
android.net.conn.CONNECTIVITY_CHANGE—Internet connection or disconnection.
android.intent.action.BOOT_COMPLETED—operating system loading.